In January, I shared a flowchart of what I called our 'pathways to engagement' — the various ways by which new players can discover and join our community. I'd like to revisit those ideas again, with the benefit of eight months' worth of hindsight, and look for opportunities for improvement. I'll also try to keep my own thoughts and reasons brief, because as I'll get to at the end here, I especially want to hear from all of you.
Let me cut to the chase: here's where I'm at right now.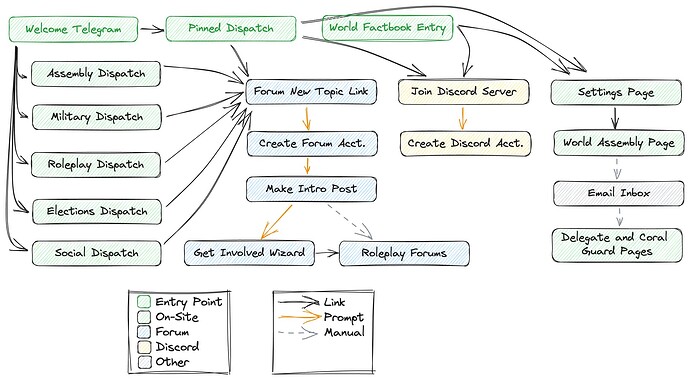 (Want to play around with the flowchart? Modify it to your liking here!)
With this revision, I wanted to focus on streamlining our integration pathways themselves. Eight months ago, our approach to integration looked quite different, and focusing on different interests to appeal to was useful for focusing in on the core aspects of our community in a way that appeals to new players. Now, I want to revisit our pathways to engagement with greater attention to how users literally navigate them — paying attention, for example, to which links are clickable or which components actively prompt the user to engage with them.
With respect to more concrete changes, the major ones would be:
Interest-focused dispatches. These are useful in places like the welcome telegram and, eventually, perhaps the RMB as well, as Maluhia proposed (legislator-only link, sorry). We already appeal to specific interests in our welcome telegram, but having a clear set of dispatches for those interests allows us to provide direct links in places where links to external sites aren't allowed.
Direct topic creation links. I think our intro wizard is quite good (if a bit out-of-date) in its own right, but it repeats a lot of information we're already presenting, and there are some inherent limitations to the wizard plugin like the mostly unhelpful 'you need to be logged in to access this wizard' message shown to new players. Discourse has a feature for creating direct topic creation links, which actually prompt users to sign in/sign up. I also considered invites here, but those wouldn't prompt users to create their first post, so we'd lose our first post experience.
Clear entry points. I think our welcome telegram, pinned dispatch, and WFE are the primary ways by which new players actually find out about our community. To me, that's where it might be worth going a more comprehensive route — not necessarily through depth, but with sufficient breadth to appeal to a wide range of interests. In our other materials, I'd tend to favor brevity and directionality.
But that's enough from me. I won't be around this coming week, but I think that's actually a great opportunity to take a step back and collect community input. And that includes you! (Yes, you!) Our integration programs are at their strongest when they are truthful to the community that we are and the community that we want to be. No matter how much I may be convinced of my own ideas, I'm just one guy, and I want to hear from all of you!
Over the next week, you're all invited to share your thoughts. Anything goes, as long as it's constructive — please feel more than welcome to agree or disagree with me or each other, to share your own ideas however briefly or comprehensively you like, and to leave me with a very long to-do list when I get back. In fact, I encourage it!