Galactya, Capital Of Celestial Empire
---
---
---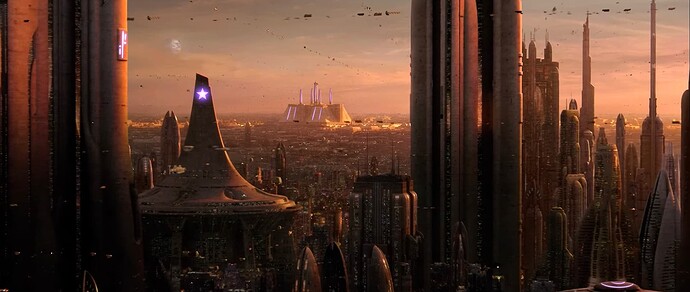 ---
As Imperial Guards and large barriers separated the crowd from the main avenue, billions of citizens and foreign visitors watched in person from large observation balconies. Hoverpads with camera crews flew all over the area, recording the event. People across the east and west of the Sector tuned in on their holoscreens, be it city-dwellers watching through massive public screens in crowded cities, or country folk tuning in to their personal devices. News Services all across six nations rejoiced in the ridiculous numbers that they were experiencing.
---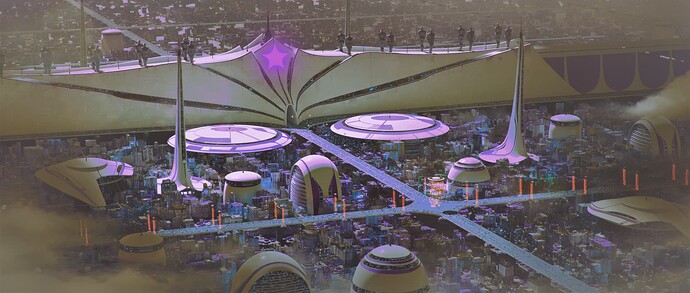 ---
The newly built Coalition Headquarters rose above Diplomatic District's cityscape, glittering in it'w pristine white color and elegant shape. The purple star of Galactya shined on top of the structure. It would prove to be even more beautiful at night.
Karheismas and Nixhoeils waited in front of the Spaceport's main tracking bay. While they usually wore their normal clothing during foreign visits from their allies, today was different. Today, they wore the same clothes that they had used during their Imperial Coronation, symbols of absolute Imperial Power, still preserved after more than a millennium. The first Congress of the Coalition turned out to be an even bigger event than the Millennium Festival that was held at the start of last year, and of much bigger importance. On this very day, the terms and the legitimacy itself of the alliance would be set in stone. An event of absolute and utmost importance, for Galactya, for it's allies, and perhaps most of the Sector. The Emperors hoped that the months of preparations would pay off.
Suddenly, three of their organizers arrived besides them, having been called a couple of minutes ago.
"So, is everything ready? Are the Warriors already here?"
"Of course my Emperor. All fifty Starlight Warriors have been decorated with their new Coalition ornaments and have been deployed on the sides of the avenue, from the Spaceport to the Headquarters. The Imperial Guards have been deployed as well, just as you asked."
"Wonderful. What about the parade? Is everything ready for that?"
"Certainly, my Empress. The marching band and the soldiers are all ready and waiting at the sides of the Spaceport. They're wearing the Uniform Of Friendship, as they were instructed."
"Are the News Services already filming from their predetermined locations?"
"Yes, of course. As of now, the Starlight News is already filming along with the other foreign services. If my reports are correct, there should be more than one hundred and twenty trillion people watching us. A truly unprecedented number of spectators. There are even some spectators from Ryccia, if you can believe it."
"Perfect, perfect. That should be everything Nix. I already checked for our friend's accomodations for the next few days this morning."
"Fantastic! That should be all then. You're free to go."
"Thanks again for your services, you made an impeccable job. Be assured that you'll be rewarded after the Congress."
"The pleasure was ours, my Emperors."
"Helping the Empire will always be an honor for us."
"We wish you luck on this shining day."
The organizers quickly scurried off in one of the Spaceport's corridors, happy to see that they had done good. Being personally complimented by the Emperors was something that even the Seven Grand Ministers would boast about with each other.
"..."
"..."
"You know... she would have loved this."
"She definitely would have. She always loved the world of politics and foreign relations, even when she was little."
"She really was Galactya's princess. I still have hope sometimes. That she may be somewhere."
"Me too. Will we ever be able to forgive ourselves for allowing her to go on that ship?"
"You and I both know the answer to that question."
"I guess we do. Anyways, no time for dawdling. Our allies are going to be here in a second."
"What do you think Julianus will be wearing? Haven't seen him in a couple of weeks."
"Maybe that new dress he told us about? By the way he described it, it sounded pretty important-looking to me!"
"Yeah, possibly. Although that man looks good regardless of what he wears..."
"I can't wait to see him again. I also can't wait to see Edhelgil. We've talked a lot through our holochannels, but it's the first time he actually visits us in person."
"He didn't even show up for the New Millenium Festival... we should take this as a good sign, you know? Maybe he actually cares a lot about the Coalition, more than he wants to show!"
"A weird possibility, but still plausible nonetheless! However, we'll see."
"We definitely will, looks like our friends are here! Ready?"
"Ready."