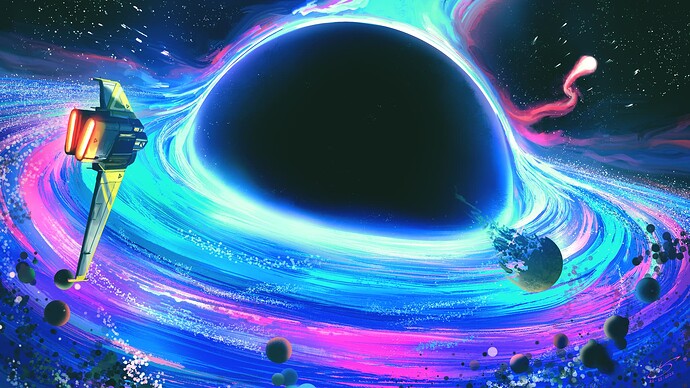 Taivaallinen, the Galactyan Empire's most beautiful and mysterious black hole.
---
Regional Galactyan Date: 32/10/6000 P.E.
Standard Sectorial Date: 0 BBT
---
Region: Celestial Empire Of Galactya
On a Galactyan Orbital Research Station around Taivaallinen
---
The Taivaallinen System was weird, even by the standards of the very dense Region of space that the Galactyan Empire occupied. Sure, black holes weren't strange for the Galactyans, but to find multiple planets in stable orbits around one, some of them with their own moons, was truly incredible. Thanks to the shining accretion disk of the black hole, continuously fueled by the near "Celestial Wall"Molecular Clouds, all of the planets were heated to temperatures that, with a little bit of Terraforming help, could easily be considered habitable. Thus, all of the five planets were colonized, even the gas giant, and the system became one of the biggest tourist attractions in the Empire, both for the Galactyan citizens and the Empire's alien friends. Still, the inner zone of the system was utterly chaotic, the accretion disk littered with the remnants of shattered worlds, becoming smaller and smaller due to tidal forces.
What was truly weird about the system though, was Taivaallinen itself. Some of the black hole's properties… didn't make sense. Some of the energy readings of the object matched the ones of Drakari Warp Rifts, and it's ergosphere was impossibly stable, like it wasn't even spinning at all. Some of the other properties were also similar to the ones of Gil Miria, in the Calerostian Empire. For a while it was suspected that Taivaallinen could be some sort of wormhole-like object, but nothing had ever been observed exiting it, so that hypothesis died quick. But still, after hundreds of years of research, the object's nature couldn't yet be explained.
The Orbital Research Station that was established around it centuries ago was still monitoring Taivaallinen, and the readings were weird, but stable and unchanging. Suddenly though, the energy levels started… rising.