The Resident - News from Sedunn in Austral
(OOC: This is a continuation of Vilue International - Sedunnic News on the old forums. It has a new name and is intended to be something like a franchise-style publisher with local editions in several countries, including Sedunn and Transsuneria)
BREAKING

| Attack on the Remetulls
Gafsred/Grovne. President Innienn has addressed the nation from Gafsred, providing the first full picture of what has become known as the Remetull attacks. At 19:35 tonight a foreign submarine (later identified as the Ryccian navy attack submarine Marresa, more about it below) fired six cruise missiles from a position due west of the island just inside the Sedunnic exclusive economic zone. The targets were likely the city centre of Gafsred and the Leveivv incineration plant. Four of the missiles were intercepted over Gafsred by the local air defence but two of them hit the power plant causing temporary local blackouts in Gafsred and several towns along the western coast. Two power plant employees were killed and another five critically injured.
Having revealed its position by launching the missiles, the Sedunnic Naval Air Service engaged the submarine Marresa at 20:00. It was forced to surface and was made to surrender to the Navy. The submarine is being escorted to a secret location.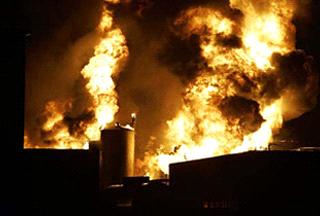 Leveivv power plant was struck by two missiles.
At 20:45 Gafsred hospital was attacked by a man armed with pistols and a machete. Four employee and six patients were killed and 23 are critically injured. The assailant, yet to be identified, was killed by the police.
"My thoughts are with those closest to the diseased and with those injured, now fighting for their lives. I wish to thank our medics and firefighters working as I speak, saving lives. I wish to thank our Armed Forces and the Police for their bravery and professionalism in defending the island and defeating the enemy."
– Vimmru Innienn.


Kerrt Sruilynn
IK/The Resident