Hello,
I would like to make aware of the following situation:
Yesterday, I imported, upon request of other roleplayers, new templates from the English Wikipedia. By doing so, some of the templates and modules we used before (2-3 years old) were updated. This has lead to the following error message appearing now on multiple pages: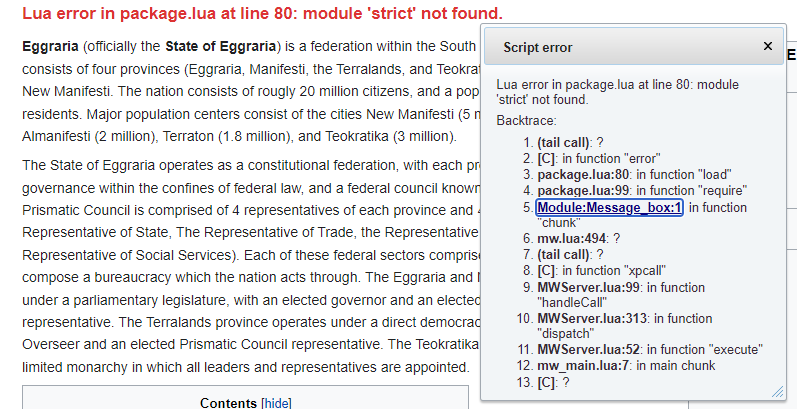 After some research, the solution for the problem appeared to be clear:
Just replace the new module code with the old code for the module, that doesn't include the "strict" argument. Unfortunately I must report, that this did not solve the problem. Additionally, other templates and modules also seem to have been updated to require the strict argument and to be honest, I do not have the time to go through all templates and modules we have now and find a fitting "old" version of all of them atm.
The second way to fix the problem appears to be, to update MediaWiki, in particular the Scribunto extension. That's why I'd like to kindly request an update of our TSPedia in that regard.
Thanks a lot in advance for doing so!
If any more information is needed, I'm happy to provide it as far as I'm able to.