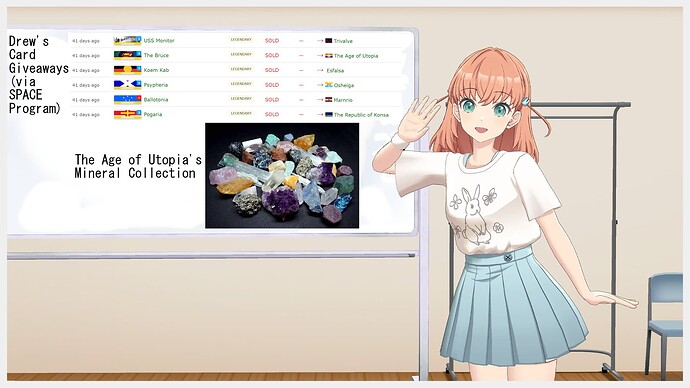 Kaho Hinoshita also here joining me in this ceremony presentation!
Here at the SPSF, we're always looking out for new talents. That's why, after a discussion with the rest at GenCorp, we're proud to announce not one, but two promotions!
The first promotion is The Age of Utopia. A collector of rocks and minerals, he has proven himself with doing it all across 50 updates. Be it fighting the Rock (chasing), recovering valuable minerals (detagging), and even recovering gemstones (liberations). Utopia has been a reliable updater who is ready for anything, and along with eagerness to improve, we're proud to announce his promotion to the rank of Solider.
The second promotion is Drew Durrnil. Also a collector, but of cards, Drew came to the SPSF having been recruited by Concrete Slab. Having been brought in for the England sieges and liberation, Drew has over 70 updates worth of experience, alongside with card giveaways for those who show up to liberations and worshipping Concrete Slab. Drew has also taken in new knowledge with relative ease, building upon the foundations Slab left behind for him. Which is why we at GenCorp, along with Concrete Slab, are happy to promote Drew to Officer.
It's been awesome to work with Utopia and Drew. With unanimous consent of GenCorp, we are once again proud to announce the ranks of Solider and Officer to Utopia and Drew respectively!
Signed,
Idol Kotoha Tanaka, Minister of Defence of the Coalition of the South Pacific