Cloud9 Cadiz
---
Real Sociedad beats Betis in the Copa del Anillo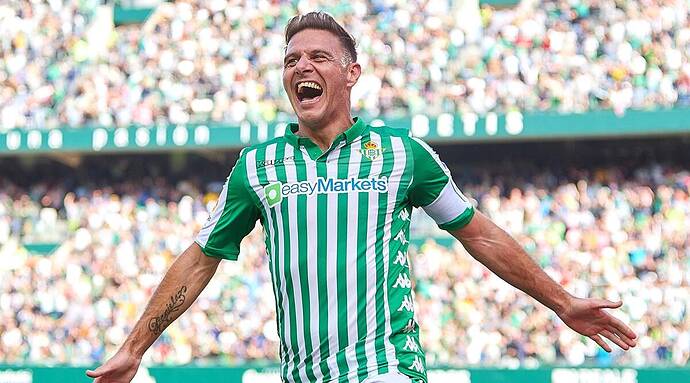 Pedro Pavilla was awarded the man of the match award despite his opponent Marcus Ramange scoring two goals over his one
By Juan Palazzo, football writer
For Real Sociedad manager José Luís Bernadillo, this season has been his best throughout his twenty years of managerial experience in La Liga. Real Sociedad is third in the La Liga table, which is remarkable for a team that in 2020 was experiencing mass financial issues and almost being relegated from the Segunda Division.
Bernadillo has led a skilled group of younger players to success this year. He credits his high-performing and aggressive attack line, along with a steady midfield to occasionally assist the young set of defensive players.
It was no upset that Sociedad beat #6 ranked Betis in the Copa del Anillo quarterfinals. Strong playing from masterful finisher and La Liga scoring leader Marcus Ramange led the team to a close victory.
Ramange scored an early header on a lob cross from left winger Rivano, establishing a lead for the team. a mere 44 minutes later, Betis attacking midfielder and captain Pedro Pavilla sent a long ball inside the net tying the game up.
In the dying minutes of the game, the Sociedad midfield made extraordinary, world-class passes to eventually find center forward Marcus Ramange who would strike the ball right past Betis goalkeeper German Silva.
Sociedad will now advance only to face #1 ranked Real Valencia in the semifinals stage of the cup. Pundits have predicted a close game, but in the end, Real Valencia marching out on top into the finals.
Cloud9 Cadiz
---
FC Huelva advances to semifinals to play Villareal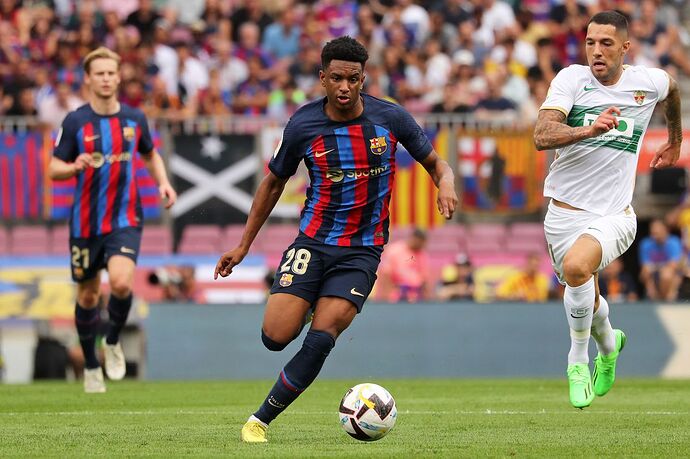 Huelva youngster Alejandro Baldé has shown prime talent in previous weeks
By Juan Palazzo, football writer
FC Huelva advanced over favorite Atlético Valencia in the quarterfinals of the 2022-23 Copa del Anillo to face Villareal. Huelva, currently ranked fourth in the league table, showed remarkable talent in their Wednesday win over Atleti.
Huelva in recent years have faced more challenging seasons, creating a barrier between their performance in the 2010s and theirs in recent years. However, in the past few years, Huelva manager Pedri has focused on grasping new and young talent, attempting to create a new generation of the club.
Though, despite this goal, the team signed Evinean central midfielder James Lanre who has presented an intriguing case in being awarded the league's Most Valuable Player honor. Lanre has played an essential part of the team, receiving passes from the defensive unit and creating counter attack chances which in turn has given Lanre a plethora of assists or notable passes.
Despite Atleti being ranked higher in the league table, Huelva fully deserved to this one. They played with control, used world-class zonal marking, and utilized their triangulation skills which brought the ball down the pitch towards Atleti's goal.
At minute 50', James Lanre crossed the ball as a corner kick to find centerback Gustaf Hendrikson who would use his head to tap the ball behind the Atleti keeper.
Huelva's defense refused to let Atleti score even despite two open chances in the dying minutes of the match. The final result was how the game stood for the final forty minutes.
Huelva will now go onto play fifth-ranked Villareal in the semifinals. Huelva are the favorites to win.
---
Man of the Match: James Lanre (CM, Huelva)
Team of the Month: lineup, commentary, and more for the week of January
By Juan Palazzo and Ferdinand Olmo, football writers
La Liga saw an intriguing past month with a plethora of action. Cadiz's oldest and most notorious tournament, the Copa del Anillo, a contest which features teams from all five football divisions of Cadiz, held its second round of quarterfinals. This would be the last edition of the tournament that does not use the aggregate leg system.
The qualifying teams, Real Sociedad, Real Valencia, FC Huelva, and Villareal, all have shown pretty good to exceptional talent this season. For Real Sociedad, this marks their first Copa del Anillo semifinal. They face favorite and league leading club Real Valencia. Despite the disadvantage, Sociedad hopes to rely off an exceptional midfield pact and striker Marcus Ramange, the league's leading scorer, to bring them to victory (or in this case, the finals).
Many players this past month have made a case to be added onto Cloud9's Lineup of the Month. As usual, our football staff here at Cloud9 Cadiz work to handpick the best players of the month (based on game performance) and pack them all into one lineup. We use a 1-4-3-3 formation in our lineup.
Aurelien Franco, Goalkeeper (Mallarca)

Franco is definitely not the stopper you would think that you'd see on this list. Franco, in a 3-0 win against Málaga put on a show, not letting any ball reach the net. Málaga had 14 shot chances, 11 of them being on target, and Franco stopped all of them. He's making a plausible case for the league keeper award, and also is making quite the progress and being the future of Mallarca, a struggling club who has been on the face of relegation of years (just barely avoiding it most years).
Dani, Leftback (FC Huelva)
Dani, one of Huelva's investments in younger talent pairs up with the club's rightback (and potential future of Cadisian football), Alejandro Baldé to create a masterful backline for Huelva. Dani's quickness and incentive to make chances up the field using special control tactics highlights why he deserves to be on this list. Dani's performance against Atleti showed specifically why Huelva advanced to the semifinals in the Copa del Anillo.
Ayden Gonzales, Centerback (Real Valencia)
For Rijyk sweeper and centerback Ayden Gonzales, playing for Real Valencia is a dream. But it came true. Gonzales started off his La Liga career playing for Aragon and later on loan at Vallecano. However, in a breakout season with Aragon in 2022, Gonzales was transferred in early January to Real Valencia where he has further shown prime talent. Gonzales has shown that he deserves a spot on this list for his fine play, notably in a 0-0 draw against Villareal where the attacking front of Real Valencia failed to construct any offensive chances but with the unofficial leadership of Gonzales, no ball entered Valencia's goalie box.
Iñaki Martinez, Centerback (Grenada)
Martinez has exhibited prime talent in this season. He's become a star player for Grenada, however his contract ends in June and he's expected to leave the team and possibly the league itself. But for the time being, Martinez has exploded with talent this season. For the 28 year-old veteran centerback, Grenada should utilize him when they can. The team was eliminated in the quarterfinals of the Copa against Real Valencia however they currently rank #6 in the league table. That is subject to change though – the 4 and 5 spots of the league are closely contested and could change any day depending on the next matches.
Alejandro Baldé, Rightback (FC Huelva)

Baldé, by far, is the future of not only FC Huelva but Cadisian football. Despite being only 19 years old, he's a master of crossing the ball, heading, passing, and most importantly, making chances through stellar defending. He's scored the most goals in the La Liga (as a defender) and has the most assists (out of any player). His success with Huelva has helped them advance to the semifinals of the Copa where they are set to face Villareal. In a January game against Sporting Málaga, Baldé scored a hattrick, garnered two assists, and was awarded the Man of the Match honor all playing at his usual rightback or position (occasionally Baldé plays right wing back).
James Lanre, center midfield (Real Valencia)

James Lanre and Alejandro Baldé have made this list every month so far this season. And I don't think that it will change anytime soon.
Lanre is nothing short of amazing. Beautiful passing skills. A stellar long ball in both passing and in free kick taking or long shots. An amazing goalscorer. Lanre has put on a show this season with Real Valencia and he's not expected to leave the club. Lanre works especially well with teammate and fellow midfielder Eric Llorente and also attacking midfielder Isco. The trio have created a new and promising era in the Real Valencia clubhouse with extremely high chances of winning both the Copa and the league title.
Isco, attacking midfielder (Real Valencia)

Isco has shown amazing talent in past weeks, working well with fellow midfielders James Lanre and Eric Llorente in playing for Real Valencia. He, along with Lanre and Llorente, are by far the new face of the team, and potentially the league. Isco has not only been great with Real Valencia but also with the Cadisian national team scoring two goals in a friendly match against the Lile Ulie Islands in early January. Isco showed exceptional skill in his past three games, scoring a total of three goals, carrying two assists, and creating and orchestrating world-class chances for shots on goal (in the forward line).
Eric Llorente, central midfielder (Real Valencia)
A Real Valencia sweep for the midfielder pact on the Team of the Month? Yes indeed! For us writers, it was a challenging choice to eventually select Llorente onto the team. There are many other great midfielders in the league that proved themselves this week. However, Llorente's calmness and control when playing has made him the overwhelming choice. He plays beautifully with James Lanre as a fellow midfielder to eventually bring the ball up the field to reach Isco and then to reach the attack line. It's a commendable performance and he's been showcasing some all-star talent.
Ethan Finley, Left winger (Vallecano)
Finley is not the player you would think would make this list. He's a mediocre Lile Ulian left winger who somehow found himself in a deal with Vallecano last July. Since Vallecano is not an exceptional club, Finley was not expected to reach this list however recent performances against teams like Mallarca, Alicante, and Real Sociedad are just a few of some reasons why Finley deserves at least a mention in this article. His finishing skills are super ideal, however, he can make good chances and always find the assist no matter where he is placed on the pitch.
Marcus Ramange, striker (Real Sociedad)

Ramange, by far, deserves the striker or lead attacker spot on this list. He's garnered the spot every month this season. He has no intention to leave Real Sociedad and hopes to bring them to not only the league title but winning the Copa despite a rather uphill battle against Real Valencia. Ramange has showed amazing talent in the league. He's the top finisher, and plays crucially when needed. Pundits have mentioned the potential of uniting James Lanre, Isco, and Ramange together all on one team however Ramange has publicly turned down the idea. Ramange showcases skillful talent and has made an extremely convincing case for Most Valuable Player.
Ferran Morata, right winger (FC Huelva)
Ferran Morata concludes our list. The promising star originally from Lasagro, notably the birthplace of Cadisian football star Rodrigo, made his way through small division teams and signed (on loan from Alicante) a contract with Huelva, due in March. The topic of Morata's future is disputed. He most likely won't request a return with Alicante, the last-ranked and regulation-prone team. However it was leaked that Morata's morale isn't too high at Huelva and might leave the league in general. Though, for the time being, Morata has been exceptional for Huelva on the right side. He's usually a striker though has adapted to play on the right to make way for younger players to take the center attack stage. Morata played an instrumental role in Huelva's Copa quarterfinal win over Atleti, making great passes and crosses which led to unfinished chances.
---
That concludes our monthly list. On behalf of all of our faithful readers, thank you.
– Cloud9 football staff