Adrian Constantinescu had enlisted two years ago, about four years into the Velutarian War. He was selected to become part of a new program. Something about a new Special Force, created by the Regent himself! He and about three hundred other men and women were put in a room. Some had scars across their face while other had tattoos, truly a diverse bunch. They remained quiet for they didn't know what was going to happen. Soon an old man came in a decorated military uniform. Then he recognised him, it was Marshall von Krassenberg. Krassenberg had survived multiple battles with the advancing Velutarians in the Tozorian Sector no less. Even before the war he was considered to be a hardened veteran. Soon his loud and strong voice began to speak.
"Well gentlemen, I believe you have an idea of what is to become of you. You gave yourselves up to be part of a new program. That program is the newly founded Orbital Drop Shock Troop Program. You all have experiences with airial droppings, which is why you were chosen. Instead of in atmosphere drops, you will be dropped from orbit right into the lines of the enemy. I am sure I don't need to explain MacArthur's policies on how to fight the Velutarians. You will become the new reinforcements for our struggling planets as we can't breach large forces throughout Velutarian blockades. You will be divided into teams of six and will be trained the coming two weeks with your new equipment."
Some gasp could be heard. Could they truly receive new weapons? Had the R/D branch finally made a breakthrough they so desperately needed? Krassenberg revealed the image of their new armour and gun.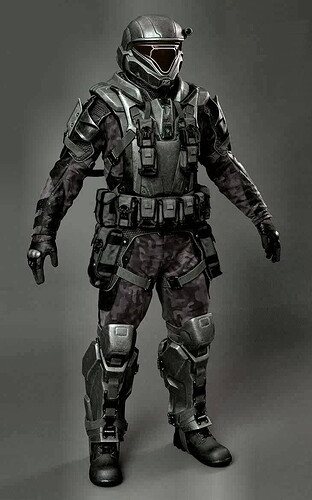 "This is your new armour and your new weapon. Your armour has new technology integrated into it such as an assisting HUD interface and some degree of energy absorption. It also has features which will allow you to survive even the hardships of space. Now we have a war to win and we should get right to it. You will find your new designeted squad in the hall to your left. Dismissed and may God serve you well."
Adrian quickly followed the masses and soon found his name on the board. Triton Squad, Gunnery Sergeant …
Adrian Constantinescu? He wasn't notified of receiving a promotion? He looked at the other names in his squad. Miguel Ferrero, Octavian Mosley, William McGregor, Yuri Drakhov and Yu Dao. He looked to where he should go now and meet his squad he sure made haste. He entered his designated room and his squad mates were already there. The Hispanic talked.
"So you must be our Gunny then?"
"I believe so."
Their instructor interjected while they talked and asked Adrian to sit down. The small blond woman in front of them began to talk.
"Well gentlemen. You are the new Triton Squad. Marshall von Krassenberg has told you that you have two weeks to train. That doesn't mean that you don't have any assigned mission. This program was made to bring your new skills to the front as fast as possible. Your mission will be to reinforce an evacuation post on Reach."
The Hispanic started to talk again. He clearly was unsettled.
"On Reach?! What kind of mission is this? A suicide mission?"
The woman was clearly dissatisfied with the Hispanic's reaction and so was Adrian. They all knew what this program could entail.
"Yes Mr. Ferrero. If you keep your loud mouth on the battlefield so the enemy can hear you cowardly words. We are Terrans for God's sake and we will act as such. Or would you rather leave those civilians on Reach die? Perhaps you don't know that 14-year old boys have begun to take arms against the Velutarians on Reach. Because the situations is that dire Mr. Ferrero. You signed up for the job knowing what it would entail. If you wish to leave you can do so now."
The whole room looked at him, while he looked ashamed. A few moments passed and the woman continued.
"You will drop at Razor's Edge and from there you will stealthily cross the enemy lines and sabotage the besieging artillery and anti-air. This will create a window in a coordinated effort with naval forces to create a window to evacuate the civilians. You are now part of Operation Salvation. Now let us start you training with your new equipment."
---
Two weeks had passed Triton Squad had grown accustomed to their new gear and were amongst the best ODST Squads. They had received a day off yesterday to prepare for Operation Salvation. They had finally gotten the chance to rest after two weeks of everyday hell. They were now forged into a new type of soldiers. They would now prove their worth. Their time would come now.
The Taskforce of a hundred ships formed a triangle shape to pierce through the Velutarian blockade. They were ready now. Their casualty predictions were high, but they had to save the women and children on Reach or die trying. Admiral Holstein spoke over the comms.
"This is Admiral Holstein. We are nearing the Velutarian blockade of Reach. Remember our mission, we are here to save civilians of Reach not for glory. Now let's get this done. Man your stations and drop pods."
The ODST's went to their drop pods and prepared for any moment now they could be dropped. The fleet surprised the Velutarians and caught them off guard. This worked in the Stoinians' favour as the first line of ships had succeeded in dropping their drop pods. However what the Stoinians couldn't know is that a new Velutarian Fleet had just came out of FTL-travel and were now firing from their rear. This ultimately decimated the Stoinian Fleet and they were forced to drop the remaining drop pods even though it would put them of course. Their fate now rested in God's hands …