OOC Note:
Reposting of the original thread from the past forums.
Characters of the Ryccian Empire have been RP'ed by @Ryccia
Ryccian Empire,
Daonlathas,
Executive District
 Two months had passed since the King's visit to the Ryccian Empire. The talks were deemed a succes by many, including himself. The result was the acquisition of a new tower on Daonlathas as embassy and early headquarters for Stoinian Companies, including ISN. The position of Legate, a Stoinian "military" Ambassador, was heavily fought for, but eventually the job had been given to Jeffrey David Sinclair. A Stoinian War Veteran and Major General in the Marine Corps who long wished for a more less peaceful assignment. As preparation he was briefed by the King on how and what to expect from the Ryccians. He also followed a course in French or Tionese as the Ryccians called to better mingle with the aristocratic elite. His main mission was to relay diplomatic messages and help Stoinians settle in, but doing so optimally would require to adapt to the Ryccians. The King's delegation had received a sky tour of Daonlathas, but never set foot on it. Sinclair would be the first Stoinian to set foot on the heart of Ryccia.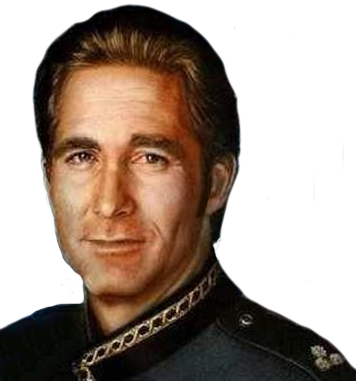 Legate Sinclair.
 Alongside Sinclair a small detachment of Stoinian Royal Guardsmen, several civilian diplomatic officials, a few corporate members and of course his wife, Rebecca. Unfortunately she had to quit her job, but the Legate salary more than compensated for it. Of course having 8 children was no easy task, quite unimaginable for a Ryccian, but he managed. Five children had to come with them. Those were John (9), Erin (9), Lily (11), Robert (13) and William (15). David was at East Point (military Academy) and Paul would also enter it soon. Margaret was still studying nursery at Louisiana Planetary university, besides they had grown up enough to take care for themselves. Luckily the Ryccian government had allowed them to follow courses at the Imperial Academy's schools. The option was given to exempt the children from racism classes, but Sinclair refused. He extended his philosophy of adapting to his children and his men.
 HMS Hermit had entered orbit of Daonlathas and Sinclair's shuttle was now entering orbit. Because he would be the first Stoinian to set foot on Daonlathas Ryccian News Networks had set up on the Stoinian Ambassadorial Tower's landing platform to catch this historic moment. As the Pelican twirled around to open up Sinclair finally saw Daonlathas and set his first footsteps on Daonlathas. The Ryccian news officials took pictures as the Royal Guardsmen formed a line on each side of Sinclair. He then marched forward and gave a small speech to the Ryccian officials.
 - "Greetings Ryccians. I am Legate Jeffrey David Sinclair of the Stoinian Star Kingdom and I will serve as its Ambassador to the Ryccian Empire. It is my and my people's will that we maintain friendly relations with your Empire. I will relay official messages from my government to yours. That's what an Ambassador should do, but I intend to do more. I am also here to learn more of your people and customs. To better understand you and live amongst you. Enfin, je essaierai d'aussi parler votre langue que vous appellez Tionese. My children will also follow courses with your children. And no for anyone out there, they will not eat your children. They too shall adapt to your customs as will every member of this diplomatic mission. Now I am sure I will get to know many of you personally as we will have a lot of press conferences together. But please hold on a bit to your journalism duties and allow myself to make me comfortable in my new house."
 Then he was met by the Vurbentan architect, Kaixgre Vuxotsen, of the Tower and was given a tour of the Tower. Unlike hardline officers, he wasn't quite as disgusted by their appearance. Merely finding them odd, something he would grow accustomed to over time. A small commercial zone at the bottom allowing for traders to set up their temporary shops and start trading with the local populace. Given the Stoinians love for nature the Architect had placed trees alongside the alley where the markets would come. Sinclair gave him his compliments for the effort. Next were the headquarters for the companies. Small offices with large windows and Sinclair could take his first views of Daonlathas and was already amazed by it. Flying cars all over the place? Where was the order in that? Upon closer inspection he saw the main traffic lines, but the sheer amount of them perplexed him. The Ryccians sure meant it when they said they were ancient. Up next were the press conference and living quarters. The quarters were small, but they had character. Finally up top were his own quarters which was in fact a penthouse due to his "extended family". He went to visit his bureau, truly a sleek design. Of course there was a large window which lead to his balcony. Unwilling to wait any longer, he went outside and admired the majestic view. Seeing the Imperial Senate in all it's might.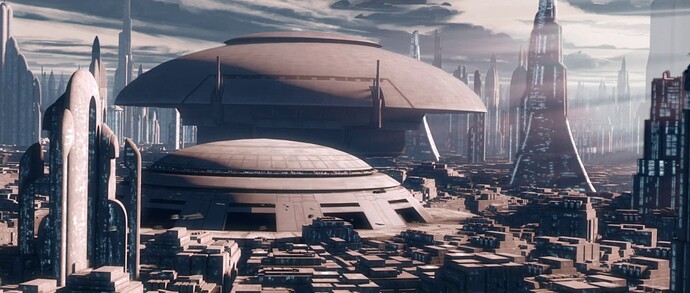 Daonlathas was metallic, but still majestic in its own form. Perhaps this finding of admiration is what got him the job. A willingness to see the good of Ryccians, not just as decadent people. He then ordered for the rest of the Stoinian delegation to move in and make themselves at home. Later that day he would visit the Ryccian Imperial Academy's schools for his children ensuring they could start within the next few days. They may not know it yet, but they had received a great honour from the Ryccians to be allowed there without any sort of testing. Nonetheless, Sinclair voiced his thanks to the headmaster of the school during their tour. However the headmaster did voice his concern by not allowing their children to get the elite lifestyle that came with acceptance at the Academy's schools. However Sinclair replied with a short answer "They might be Ryccian educated, but they still should have Stoinian hearts."
 The whole Stoinian delegation had settled and were now ready to show these Ryccies what it meant to be Stoinian. HMS Hermit had long gone for its long voyage back home. Sinclair's first task tomorrow was to speak at the press conference regarding Stoinian tourism locations such as Sinaia, Hyperion, Elysium, Corillia, Csillia, Gagarin and of course the tropical Rishka. His pitch would be essential to start the tourism and inform the Ryccian populace. Regardless of his Military career, he enjoyed this civilian aspect of the job. Yet because of all the admiration he couldn't quite yet sleep. So he set out to his penthouse's balcony and drink tea. His family had already fallen asleep so he had to be careful not to make too much noise. Daonlathas was majestic at day, but it was downright beautiful at night with all the lights. Sinclair grabbed a chiar while admiring the view, trying to follow some speeders, but it still all overwhelmed him. Slowly but steadily he too fell asleep on his balcony while admiring the view.

 The next day was a good one as he began his day with his routine running in the market alley early in the morning. His pitch on the Stoinian resort worlds was good, but when asked as to where Stoinian tourists should go he only had this to say.
 - "To my Stoinian Brethren who want to visit the Ryccian Empire, I would suggest to not look any further. For Daonlathas is the city that never sleeps. It's mere existence is a miracle to me and I can say you right now. That even at the end of my mandate here, I won't have fully explored this planet myself. Daonlathas truly is the Crown Jewel of the Ryccian Empire."
---
 It had been a week now, slowly but steadily they were starting to feel at home. Of course the children wanted to go back, but later on they will be thankful for the experience. Or so he hoped.
After the short press conference, Sinclair was approached by a woman from Imperial News Network, Katrani Corgill. She had asked him if a possible exclusive interview could happen. Sinclair accepted and beligerently refused any other interviews. The day of the interview had come.
 - "Let's begin with the more visible irregularities. As I understand your job title isn't Ambassador, but Legate? And this has military connotations from what I understand? I mean your uniform reveals that somewhat, unless it isn't a military uniform."
 - ''Yes, the title is Legate and this is indeed a Legate's uniform. Within our Kingdom foreign policy is jointly operated by the military and civilian government. For those who don't already know, the military is run independently from government, but both serve under the King who serves as a bridge between the two.''
 - ''Ah I see, so the role of your monarch is quite important in politics'?'
 - ''In a way yes. Constitutionally the monarch has quite a lot of power. However there are a few unwritten rules as well. The monarch is expected to respect the will of the people and accept the Chancellor and grant him those powers. There also is the Parliamentary Guard which prevents any coup d'états from the King. Whether the King involves himself in politics is entirely up to him. Previous Kings have taken distance from politics and left internal affairs completly to politicians while focusing on their duties in the military.''
 - ''And what kind of King is King Andrei?''
 - ''I think his press conference of the state visit made that clear. He is very caring for his people.''
 - ''But aren't you afraid he could misuse his powers?''
 ''If you know recent - Stoinian history than you will see why people trust him.''
 - ''Please do enlighten us.''
 - ''Around thirty years ago, when I was about 10 years old, our King Alexandru III tried to initiate first contact with the Velutarians. He was killed in the process and thus the gruesome Velutarian War started. King Andrei was but a mere newborn at the time. Tensions rose between the civilian government and the military, while the Velutarians located our outer colonies and conquered them. The Terrans on those colonies were subjugated into horrible experiments by the technologically superior Velutarians. It was then that the Royal Council appointed Grand General MacArthur as the Regent. The military was de facto in power during the war. The war lasted for 18 years and 8.7 trillion Terrans died, more than half of our population back then. I don't see how a civilian government would have dealt any better than MacArthur did.''
 - ''But isn't that illegal? What about the representation of the people? Weren't they ignored?''
 - ''People openly supported MacArthur. The O'Connel government didn't know anything on how to fight a war and their initial command proved devastating for our forces. That's why the Royal Council elected MacArthur as Regent. We needed a wartime leader, it was time for war and no political squabbling. The people had spoken and the process was well within our law system. Yes MacArthur then installed Legates as military governors on planets and there was some resistance, but we were fighting a losing war. Were it not for MacArthur, Hague and Cole, I wouldn't be standing here. King Andrei then prepared his whole life to lead us in this war. At 17 he commanded Task Forces against the Velutarians and when he turned 18 he became the Butcher of Velutaria. From that day on he proved himself to us.''
 - ''Fascinating, did you serve in this Velutarian War?''
 - ''In some capacities everyone served, to resource mining to actual fighting. I joined the Marine Corps and served in the 214th Regiment. Oorah!''
 Sinclair also proceeded to do a military salute at the oorah. He had forgotten about the connotation it had within the Ryccian Empire, right now he could only hope for the best. Katrani Corgill looked a bit shocked, but quickly followed with the next question.
 - ''But didn't your Kingdom try resolve this peacefully?''
 - ''When xenos don't try to even communicate with us and killed our King, I think those acts speak for themselves. Regardless of how technologically superior they were, they committed an act of war and later atrocities. The Ryccian people should know that by now that you shouldn't provoke Stoinians in such a manner.''
 Sinclair may have made an error here by provoking the Ryccians with the Rascal Incident. Katrani Corgill was a top journalist for a reason. She too could swing back in her own way.
 - ''The Rascal Incident aside, don't you think the Stoinians might be overzealous in their xenophobia?''
 - ''Overzealous? Madam Corgill, four times our race was threatened by xenos. Our extinction was a day to day worry. Your ideals are commendable, but our part of space tells us that those ideals can't always be put in practice. When you're part of space was infested by barbarian pirates and clans, you don't become as open as you are. And what you call xenophobia, we call it a reality check.''
 - ''An interesting perspective, but isn't that way of thinking dangerous to other races? Is it instilled in your military that feeling?''
 - ''Of course its drilled into us mostly in military style programs at schools. The military is the protector of the people and you don't want weak men with their heads in the clouds protecting you. That way of thinking is what kept us alive time and time again when we faced extinction. As to other species, we can find common ground. The Csin are a prime example of that.''
 - "I have found a little bit about these Csin , but I think you have to agree that they look quite human like. I believe the Stoinians might have a preference for only humanoid races. Races which only look according to your humanocentric view. Would you have the same reacting if they were for example Uraktiksak? "
 - "I am afraid I am unfamiliar with these Urakti … How are they called?"
 Katrani then opened a holoprojector depicting the predatory xenos. Sinclair hadn't expected such a vile creature to appear. These Ryccian ideals had to be ingrained in them for such a vile beast to be accepted into their ranks. Sinclair's slight disgust could be seen by the most attentive watchers.
 - "Uraktiksak. Would they likely have received the same "gratification" as the Csin ?"
 - "Obviously madam Corgill, I am not in charge of making such policy. You also forget that the Csin have proven themselves in battle and fought alongside us in the Mardakii Crusade. They shed their blood as well for our common enemy."
 - "But would you accept them into your Kingdom as worthy citizens based on the info I have given you?"
 - "I believe your schools teach racism classes. Classes which weren't deemed necessary for my children, but I insisted they took them. I may not exactly know what is taught in those classes, but I have an idea. And like yourselves, we don't just judge a book by its cover. We Stoinians speak through deeds, if the Urakti … Uraktiksak understand that and prove themselves, I don't see a single problem."
 Katrani looked quite inquisitively at Sinclair.
 - "You mentioned the Mardakii Crusade … What exactly is this crusade? Did you serve in that one as well?"
 - "No, I have had my fair share of battles and have focused on training young Marines after the Velutarian War. The Crusade was mostly with select volunteer forces lead by the King. The crusade was meant to eliminate hostile Mardakii threats which inhabited the space between us and the Csin Palatinate at the time. But that isn't the entire context. In the first ten years a Mardakii clan invaded our homeworld and committed atrocities far worse than the Velutarians … In some instances … Terrans were eaten. Ever since then it has become our duty to eliminate them and ensure no other species endures what we have by the hands of the Mardakii."
 - "But isn't that, to put it bluntly, genocide?"
 - "It was us or them. When your children are at stake, you don't overthink it. What the first generation of Stoinians endured is unimaginable and should never be repeated to any species out there. And if it meant to kill the Mardakii then so be it."
 - "What about the Mardakii children? Aren't they innocent?"
 - "The children we ignored until the end of the Crusade. We tried to make a clear difference between Mardakii soldiers and civilians. Although at times it was hard to distinguish the difference due to their animalistic nature and it quickly became a thing of which Mardakii stormed at your men. The children were then captured and put in nature preserves to live their lives on where they couldn't hurt any other species."
 Katrani was astonished. By Ryccian standards they had committed war crimes and their Legate just admitted to it. She quickly shook it off and went on with the interview.
 - "But don't you think that's inhumane?"
 - "Compared to eating, butchering and enslaving innocent Terrans? No, we gave them a chance to redeem themselves. There is an order of things in the universe. Like the predators and herbivores, you shouldn't poke the wrong lion as we put it."
 - "Quite interesting … But let's instead focus on yourself. I think we have quite enough to digest about the facts you have given us. Politics can be quite unnerving …"
 - "I understand, the very ideals you hold dear are being challenged. I truly admire your values, but our part of this sector has made us into what we are. We were forged in fire, but will never admit to become ashes."
 - "I see … Have you settled in with your new homes yet?"
 - "Yes, though I am still getting used to viewing only cities. But the trees in our commercial zone help a lot. I must say, I think I am growing a soft spot for Daonlathas."
 - "How interesting. And your family and entourage have the same feeling?"
 - "Well the kids already want to go home, but yeah its hard on them. I hope later in life they will come to see and appreciate the unique opportunity that has been given to them. To be here amongst you is a huge honour, let alone to be taught in famous schools."
 - "Good to hear you have an optimistic view. Have you had many visits regarding businesses who want to expand in both our nations?"
 - "A few here and there, but nothing too special. However I suspect and influx of Stoinians will come over the next few weeks. So if any of the Ryccian companies want to expand in the Star Kingdom, the Stoinian Embassy is open from 9 to 17 every day except on Sunday. Come about and we'll guide you to a successful career in Stoinia."
 - "Well perhaps I will come more frequently to visit those Stoinian shops or a cup of coffee with such a good pitchman."
 - "Oh I myself am more of a tea man. A good ol' earl grey."
 - "Ah a man of tea? Though I can't say I am familiar with that taste."
 - "All the more reason to come visit the embassy."
 - "I sure will. Legate Sinclair thank you very much for the interview."
 - "No thank you and I'll see you around my embassy then."
 They both smiled and then shook each others hand. Sinclair gave a firm handshake as was expected in Stoinia, while Katrani was quite shocked by the amount of force Sinclair had used. Sinclair had adjusted to a more elegant handshake that you gave women, but even then it proved quite a surprise for Katrani. They a few more talks and Katrani had given Sinclair her word she would come around for a visit.
 Later that night a fallout emerged on news networks. Some more radical headlines than others. National Review: "Legate Sinclair confirmed Stoinian barbarity!" ''A parasite that profits from our schools!" The People's Inquirer: ''Stoinians might kill an Uraktiksak because of its looks?!" While others were more reserved. INN: "Stoinian values challenge ours. A deeper look at their Legate." Even at home the Progressive Xeno Party was outraged by Sinclair's openness about the Mardakii Crusade and their aftermath. Thank God he hadn't started about the Great Hunt. Some wanted Sinclair to be recalled, but the higher ups refused. This was to be expected and rather than replacing Sinclair with a new person who wouldn't have the same qualities and make other mistakes, the Stoinian Government had decided that what Sinclair needed was a Ryccian Advisor. Luckily the Ryccians had just the right person in mind.
---
Ryccian Empire,
Daonlathas,
A few days after the Legate's interview
 Ferul wasn't pleased with what had happened at the interview. The Legate was sloppy with not asking the content of the questions first. If he indeed wanted to promote Ryccian-Stoinian economic ties, he would need an advisor, a Ryccian, who would help him tread the thin lines of Ryccian culture. He sat down with a few from the Ministry of Foreign Affairs. They needed an advisor to Sinclair, someone that would and could work with him. Hence why aristocratic members and those of a more wealthy background wer ignored. Initial talks revealed that they didn't want to be associated with what some of them called, barbarians. Therefore they needed someone more pedestrian, as someone from the lowest classes might upset the Stoinians. He had the Ministry of Foerign Affairs make him a report on the most suitable candidates.
 The following morning Ferul reviewed the potential candidates and none seemed to quite fit the category. Until he took a better look at the last one: Foixon Pureshan. He took a closer look at his file.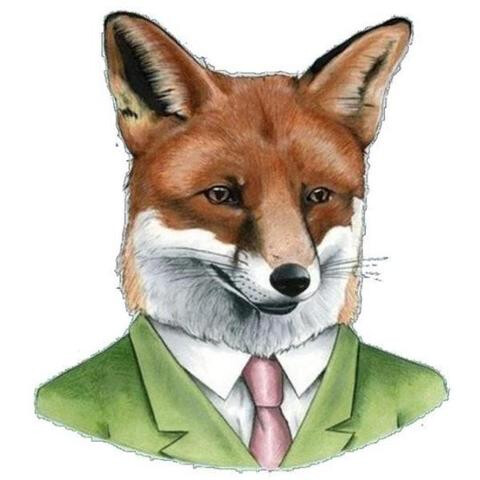 | Name | Foixon Perushan |
| --- | --- |
| Home Planet | Sheilan |
| Age | 31 |
| Education | Law, University Sheilan |
| Job | Offical within Sheilan's planetary government |
 He went deeper and found that his father was an artisan as well, just like Sinclair's. His father handmade Kiyusni furniture to the wealthy. To non-Velpans Kiyusni was often called "Velpan Wood" as it came from the Kiyu. Thus, Foixon, whilst not employed in this trade, had a bit of experience with carpentry, mostly from his childhood. As he further read through his files he only saw commendations. It was decided then, it was time Ferul had a little chat with this promising Velpan.
---
Velpan Rim,
Sheilan,
Foixon's apartment
 Foixon had just returned from a diplomatic mission to the Imperial Rim, he was sent to discuss some imports on a new trade route, and was quite tired from it. He wanted to relax the rest of the day with his girlfriend, Ferala Valkeut in his apartment and said to himself.
 - "If I keep up like this, I might even get an apartment on Daonlathas itself."
 He proceeded to eat his meal with his loved one and felt quite full after the first course. However he wanted to celebrate his mission's success and was about to consume the roseven liquid, when his holocommunicator beeped off. He checked the signal. The Chancellor?! He quickly made himself presentable and opened the comm in the room next door.
 - "Your Imperial Excellency, what can I do for you?"
 - "No need to waste time Mr. Pureshan. I have the opportunity of a lifetime."
 Foixon was stupefied. What could this be? Could his hard work finally have paid off?
 - "Please do tell Chancellor?''
 - "Are you aware of the new Legate from Stoinia and his interview?"
 Of course! Who hadn't seen that flop of an interview? Truly the Legate needed some lessons in Ryccian culture. Some of the outer colonies might appreciate his honesty, but such harsh truths are mostly taboo, especially in the Core. Wait, was the Chancellor hinting at something?
 - "Yes, your Excellency, that interview with INN could have gone quite smoother."
 - "And that is why I am calling you."
 - "That much I figured out now, but I am not sure I quite follow …"
 - "We have an offer for you. How about you become the Ryccian Advisor to the Stoinian Legate? That way we can prevent future fallouts and save the Stoinian reputation as economic ties with them is within our interests."
 - "I understand your Excellency."
 - "Good, then you can pack your things as you will have your personal room in the Stoinian Ambassadorial Tower."
 - "Truly an honour, your Excellency."
 - "Very well Mr. Perushan, we will expect you as soon as possible."
 - "Yes your Excellency, I will make haste."
 - "Good, good night Mr. Perushan."
 Ferul then hang up. Foixon was ecstatic for a Velpan, his dream to have an apartment had just come true. On Daonlathas the capital of the Ryccian Empire!
 - "Ferala, pack your things!"
 - "Why Foixon? What's the matter with you?"
 - "We're moving to Daonlathas!"
 Ferala was shocked and Foixon explained her about his new job. This surely was to be celebrated and began their celebratory night with consuming the roseven liquid.
---
Daonlathas,
Executive District,
Stoinian Ambassadorial Tower,
Three days later
 The Ryccian nationalists had started riots following the interview. For three consecutive days they stood before the Stoinian Ambassadorial Tower, asking for Sinclair's resignation and the withdrawal of the agreements made by both governments. Boards with "Get the parasite of Daonlathas!" "Barbarians go home!" were common those days. It even got so bad that Sinclair didn't allow his children to go to school for those days. Ryccian Riot Police did their best and kept everything under control and civil. However more and more people were gathering at these protests and escalation was imminent. If Sinclair couldn't resolve this within a week he more than certainly would be recalled. Luckily help was on the way. Foixon made his way to Sinclair's office after he had settled in.
 Sinclair looked from his balcony at the riots as Foixon entered his luxurious office. Only a few words were needed to get these rioters out. He was somewhat perplexed, but the more he thought about it, the more it made sense. The door chime could be heard.
 - "Come in."
 Foixon walked confidently towards the bureau.
 - "Legate Sinclair, I am Foixon Perushan. Your new Ryccian Advisor sent by my government."
 Sinclair didn't turn and answered stoical.
 - "So you must be the cavalry then. My new aide de camps as I put it."
 Foixon recognized the few Tionese words, but he didn't know the language. Regardless he was here to advise and didn't quite care for Sinclair's manners towards him.
 - "I don't quite follow, Sir. Perhaps you can enlighten me after we have dealt with the problems at hand."
 Sinclair turned towards him.
 - "Good, I prefer it when men get to the point."
 Sinclair handed his hand out, Foixon hesitated a bit at first, but gave him a simple handshake. And as a true fan of Core culture, he didn't press as hard whilst giving the handshake. Sinclair however noticed that Foixon was used to giving more firm handshakes. The initial power he felt was comparable to his own. This Foixon has indeed potential he though to himself.
 - "I must say, Sir. You're lucky you didn't admit to a war crime. That would have been enough in itself to demand your resignation."
 - "And have a more radical Legate in my place? My government isn't that stupid. Believe it or not, but I am as centrist as we Stoinians come."
 - "Perhaps so, but you are on Daonlathas now. You must adapt to our ways if you want your career to continue."
 - "Very well then. You are my new advisor, so … Advise me then."
 - "We are currently in a phase of damage control, we need to find a way to calm out the mob. Perhaps a televised excuse for your government's actions would be a good place to start. You didn't say anything else towards news outlets, did you?"
 - "No, of course not. I made it clear to my staff that from now we will only do interviews with questions beforehand. As for your suggestion … I won't excuse my government's actions. It did the right thing and you won't change that. I saw what those xenos did and I cannot simply forgive them for it. Do you know what it feels like to lose men you promised to get them home back safe?"
 - "Frankly, Sir. I don't care whatever you have been through I am here to help you find the thin lines of our society. However since you are quite stubborn to actually excuse your government, I suggest that we use some techniques they use in politics. Make it look like an excuse, but not actually excuse yourself. Find a way with words that make it sound like it without actually saying it. I saw the interview and suspect you somewhat dodged a few questions here and there. Would that be satisfactory?"
 This Velpan was quite detached. Not caring for Sinclair's past and the horrors he's been through. Perhaps he had a point, perhaps the Ryccians felt that way, but none had dared to say it to him. However, he was clever.
 - "I see, then let us work on a speech then. Though I have an idea about televising it."
 - "Please do tell?"
 - "Have a podium set up in front of the riot."
 - "Are you mad?! That will only invoke the riots even more!"
 - "If I am to kill the deer I hunt, I want to look it in the eye when I do it. Besides I have faced far worse in the war."
 - "But Ryccian opinion on Stoinians is deteriorating as we speak, we don't have an leeway for games here Sir."
 - "Do you remembered what I said in the interview?" Where is the madman going with this now?
 - "I'm afraid I don't quite understand? The atrocities about your government?''
 - "No, about us Stoinians. We were forged in fire, but we will never admit to become ashes. We speak through action, I want the Ryccians to know that we will stand our ground for our beliefs."
 Foixon was a fan of hunting and understood the point Sinclair had made to him. It was a feeling from one hunter to another. It was certainly not something he would expect from a human.
 - "That much is already clear to me. But I will do as you wish and inform the staff for the necessary preparations."
 - "Good after that you can come here again and review my speech."
 Foixon nodded and left the room. He couldn't care less if Sinclair would lose his position, clearly he was a madman, he hoped he could remain here on Daonlathas if things went sour.
 I like him, for a Velpan …