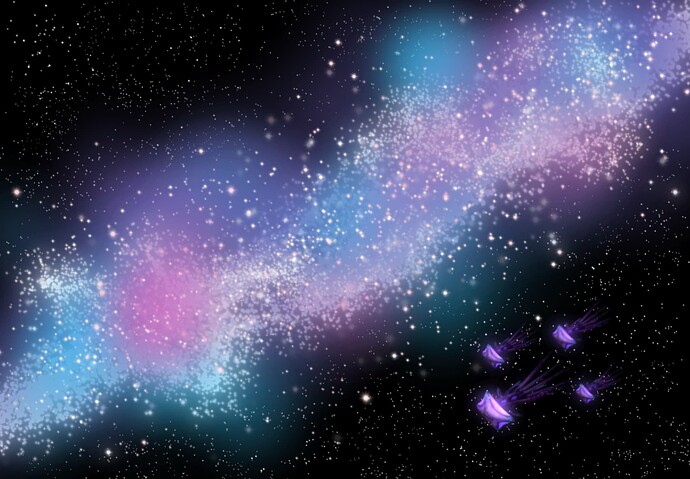 A pack of Tiyanki Space Whales travelling outside of the Tiyanki Expanses, towards unknows stars.
---
Sector A1-0, in the Alpha Quadrant of the Lampshade Galaxy, is a most wondrous place. Crisscrossed by strange and mysterious anomalies and dense nebulae, teeming with sapient life capable of crossing the stars, hundreds if not thousands of sapient species all born inside it's borders, with even more uncountable numbers of simple sentients. Great nations divide all known space, the reaches of their sovereignty undeniable and often times more ancient than one could fathom. For thousands upon thousands of years, great democracies, empires and the like have conquered the stars, in an ever ending mission to expand their reaches and often times, their power. While wars of untold death and destruction might break out on one side of the Sector, great alliances of peace, prosperity and knowledge may be forged, ushering in ages of light.
---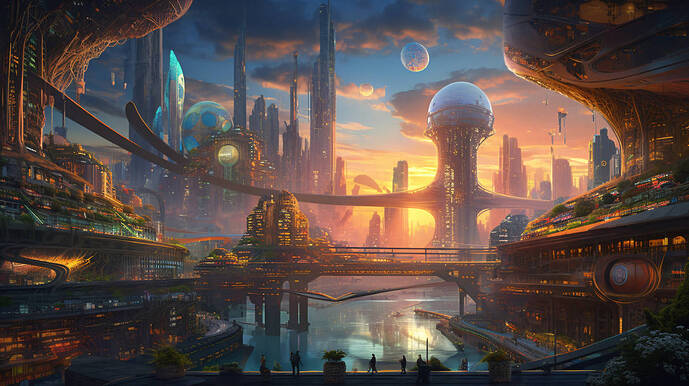 A walkway in the middle of the settled areas of a Galactyan Core World.
---
The Celestial Empire Of Galactya, founded nine thousand and seven hundred years ago from the current year, thrives in the West, controlling the volumes it carved for itself inside it's exotic and impossibly dense Nebulae. Hundreds of species, all sapient and all citizens, live utopic lives of knowledge, abundance and decadence. With full liberty to rewrite their bodies much further the ancient Darwinian limits of evolution and natural selection, each citizen is able to be whatever they want, whenever they want, however they want. There is no such thing as discrimination or poverty, and crime, while still existing, continues to decline.
However. This is how things are NOW. This, is how things are after more than 96 centuries.
If we were to go back through time, it would be easy to see that things weren't always like this. The history of the Galactyans is riddled with blood, strife and conflict.
So, let me take you through the ages, from the earliest days of the PreEmergence, to the middle of the two Interstellar Wars, to the present day itself. A journey, that will show you the story of the Galactyans, who, through many adversities, have rose to the stars.