Regional Galactyan Date: 17/03/5867 P.E.
Standard Sectorial Date: 212 BBT
---
Region: Celestial Empire Of Galactya
Star System: Kairelia
At the edge of the Kairelian System
Kairulen Security Sensors Outpost
---
Kairelia was one of the biggest trading centers in the Galactyan Empire. It's worlds, especially the MainWorld Kairmios, were always full with citizens from all over the Empire and sometimes, even their alien friends would visit. But, at the edge of the system, in contrary to it's other sibling worlds, was Kairulen.
Kairulen orbited far away from it's mother star Kairelia together with it's two moons. While all the other telluric and gaseous planets in the system had been terraformed and colonized, Kairulen had been barely touched. It's core had died millions of years ago, deactivating it's magnetic field and exposing the surface to dangerous amounts of harmful cosmic radiation. At that point, there wasn't even an atmosphere to lose, since it had completely frozen much before that, now transformed into a slightly blueish snow that covered the entire planet. The crust and mantle were made of invaluable materials, and while the core could serve some purpose, the mining excavations would have been far too costly to be justified. It's two moons were similarly purposeless and devoid of anything useful.
Therefore, Kairulen was rarely acknowledged by the Empire, as well as the population. But still, as was true virtue of Galactya, they managed to find a purpose for it.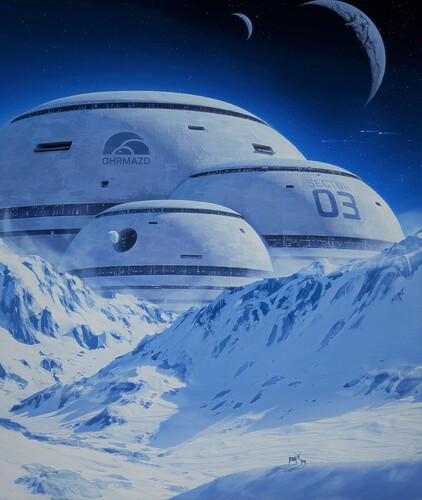 On the frozen equator, large domes rose from the surface, almost camouflaging with the light-blue snow.
This complex of structures was the Security Sensors Outpost. To protect the rich and desirable system from outside invasions, the entire structure consisted of thousands upon thousands of experimental sensors to detect signals from incredible distances and with great accuracy. It also hosted one of the first models of Universal Translators gifted by the Star Empire Of Calerost. While the station was mostly operated remotely, a small team of maintenance engineers and technicians lived permanently in the living quarters, their job to check, repair and re-calibrate the many systems.
At last, a purpose was found for Kairulen. And it was this purpose, found in haste, that would be instrumental for Galactya's new friendship.